About Us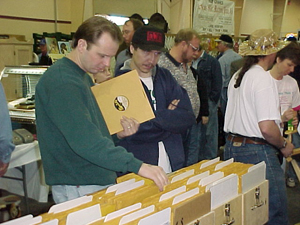 JukeJointRecords.com is a new name for old and very established company.
Primeau Music has been in business since 1973, providing music to satisfied customers in one way or another ever since. In 1989, Primeau Music went online and became Primeaumusic.com; providing records, radios and musical memorabilia to the world via our website at www.primeaumusic.com.
At first, our online selection of records was quite limited, as all records are input by hand. Building an inventory database is a huge endeavor and it took quite some time, and in fact is ongoing still as we have over 500,000 records still uncataloged.
Eventually, our records databases grew to the point where we had the largest online selection in the world and it was time to break the site away from the parent site and run it as it's own entity.
JukeJointRecords.com is the collectable records division of Primeaumusic.com. It will remain a division of the main company - however having a site dedicated solely to rare and collectable records allows us to devote more attention to making the record searches more intuitive and comprehensive. It also allows us to create custom pages dedicated to the goods and services related to the record collecting hobby/business and evolve as the business evolves.
We welcome your want list. Simply use the "Contact Us" page and send us your wants. We will do our best to locate your records and contact you when they are available.
We try to grade as accurately as possible, however from time to time something may get past us. We are not able to "play grade" all records, due to the volume of records being listed and our limited personnel.
In the event that your record is not the grade listed on our site, we will happily accept your record back, providing it is returned in the same condition it was shipped in.
All returns must be approved in advance and an RMA number must be issued. We provide a US shipping address for customers in the US and this is the only address that will accept US returns, so be sure to contact us before returning any product to us for RMA information.
Our customers, as a group are good and well satisfied customers and the large majority do repeat business with us. This speaks well for our product and customer service. If you have a question or concern, PLEASE contact us and we will do our best to address it!
Thank you for choosing JukeJointRecords.com. We look forward to doing business with you!!
Scott Primeau